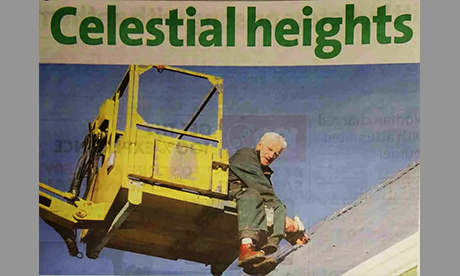 Mix one cherry picker, a real sense of adventure and top it with a of love for people, and doors open for Marist priest, Michael Mahoney.
The missionary priest who spent 30 years in vibrant Brazil, continues his adventure with the Gospel, but now works in New Zealand's remote rural South Westland.
For Michael Mahoney, the cherry picker is not only a practical help to maintain several South Westland church buildings, but is an extension of his ministry.
"What I'm doing is a service to the parishioners. People say to me 'will you clean my chimney or top a tree", Fr Mahoney told the Hokitika Guardian.
Owned by the parish, use of the cherry picker and Fr Mahoney's help are not a "Catholics only domain,' and both priest and machine came into their own last April helping the community in the aftermath of Cyclone Ita.
"People know what the priest represents and who he is; so if he is able to offer assistance to people in their lives it is a means of affirming Christianity", said Fr Mahoney.
"To have someone doing ordinary work, part time in the community is a means of meeting many people who would never otherwise have contact with religion or a priest."
An accomplished pianist and composer, parents have also asked Fr Mahoney to teach music to their children.
As services are gradually removed from rural areas, Fr Mahoney believes it is important for the Church to show it cares for country people; affirming their way of life, providing a spiritual presence and moving around in the community.
The parish too gets its fair share of use from the cherry picker and recently Fr Mahoney dealt with the ageing corrugated iron roof of the Hari Hari church for the grand cost of $150.
Calling it a "fix-up job" Fr Mahoney says getting a plumber in would have cost thousands of dollars; money the parish does not have.
Fr Mahoney's energy and concern has not gone unnoticed, and parishioner, Mrs Jincey Wright, told the Hokitika Guardian that Fr Mahoney's work was a tribute to his tenacity and commitment to the people.
It is amazing how so much can be achieved with so little, she said.
Sources: