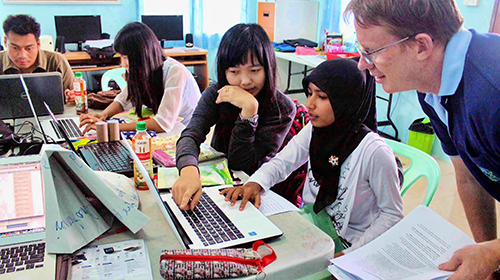 Australian Catholic University (ACU) is now funding the costs of its diploma programme run by the Marist Mission in Rangong.
The announcement came a few days after Director of Marist Asia Foundation, Fr Kevin Medilo's meeting with ACU staff in Sydney.
Fr Medilo is very pleased with the outcome.
"This partnership gives people the chance of a full education", he said in a written statement.
"In a small but quiet way it changes people's lives and helps alleviate poverty".
ACU's Thai Burma Border programme supports Burmese Refugees and Migrants, has been in partnership with Marist Asia Foundation since 2009.
The new five year partnership brings stability to the programme and is a significant cost saving for the cash-strapped Marist Asia Foundation school.
Diploma graduates get good jobs
"Young students are staying in school. Graduates are getting good jobs."
Students at the Marist Asia Foundation school in Ranong study online and with visiting lecturers to complete their Arts and Liberal Studies Diploma.
Courses include Academic English, International Development Studies, Youth Development, Introduction to Management, Global Health Challenges, Human Rights, Global Change and Development, Education for a Sustainable Future.
"Young students are staying in school. Graduates are getting good jobs", says New Zealand Marist, Frank Bird who runs the diploma programme in Ranong.
"It is invigorating to see bright young confident Burmese Migrants conscious of human rights and  understanding the complex development needs of their home country in Myanmar", he said.
Discussions are now under way between the Marist Asia Foundation and ACU investigating the possibility of the ACU granting a Teachers Training Diploma; giving migrant students an opportunity to get a recognised qualification as a teacher.