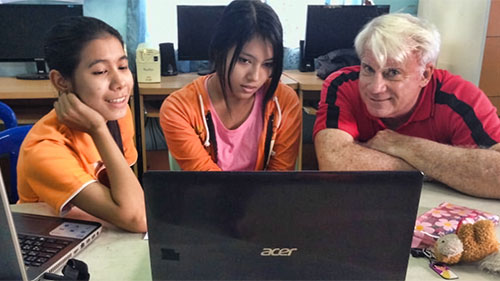 "I enjoyed being Marist in the pastoral and mission-minded team of Marist confreres" writes Fr John Jolliffe SM.
John is commenting about his recent 4 week experience of Marist Mission in Ranong, a Southern Thailand fishing village.
After many years of pastoral ministry in New Zealand John Jolliffe is currently on a period of renewal and part of that time he spent with the Marist Mission in Ranong; a fishing village on the border of Thailand and Myanmar.
The Marist Mission in Ranong works among the Burmese seeking refuge in Thailand and provides
education as a key to development out of poverty and into leadership
care for HIV patients by personal home visitation, medical education, and
by practical assistance in dealing with agencies and government.
Having worked for 18 years in the local churches of the Tokelau Islands, Western Samoa and American Samoa, John approached the Ranong mission with some experience of what it means to work in a culture which is not his own.
However, while feeling very much at home again in this mission environment, in an article on the Marist Asia Foundation website, John Jolliffe quickly recognises the mission differences and acknowledges the range of cultures, difficult-to-learn languages, new relationships and the general demands of coping with life in Thai society.
What follows is some of what John Jolliffe wrote. His full piece is on the Marist Asia Foundation website.
Marist Mission
The true Marist heart of Marist Asia Foundation is clearly evident, given and received.  The fact that the Burmese refugees we work among are mainly Buddhist, with a few Muslims and only a handful of Christians, adds a unique and respectful dimension to that interesting experience.
Education
Another special joy for me was how the On-Line University students were so happy to trust us and our responses.
To be trusted to listen alongside these migrants as they struggled to clarify their own thoughts and their hearts' deep desires with such openness, honesty and passion is a specially privileged Marist memory I will prayerfully reflect on further.
I realized that, even there in the context of coping with difficult Burmese and Thai languages, I have much to learn again even in English!
Health
Visiting with Fr Gil Casio and his health team some HIV families in their poor lodgings, listening as they willingly shared their personal stories in eager and much appreciated dialogue (I knew only the visible emotions in their nonverbal communication), also exposed me to a variety of human struggles and caring interactions important for ongoing reflection and prayer.
Source: Marist Asia Foundation