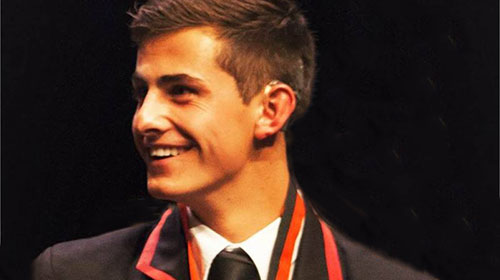 Former St Bede's College head prefect, Lachlan Bartlett, September 10, received the prestigious runner-up prize in the 2016 Cochlear Graeme Clark Scholarship for Australia and New Zealand.
The Graeme Clark Scholarship is an award established to help recipients of Cochlear hearing solutions further themselves by undertaking university studies.
Commenting on his deafness, Bartlett said it was part of who he is and he has learnt to own it and be proud of it
Positive throughout Bartlett's schooling, among his achievements were captaining the First XI football team, winning a University of Canterbury Leaders Scholarship, and winning academic Gold Pockets in 2013 and 2014 and a honours Pocket for Athletics in 2014.
"As Head Prefect I came to the realisation that a true leader does not stand above others but serves those who need help the most."
Having recently joined the Marist Leaders Network, a nationwide organisation that helps the Head Students and Prefects of Catholics schools in New Zealand, Bartlett is developing the skills that will one day come in handy in his chosen vocation as a lawyer.
"As a leader in many communities, it is crucial that I give back to those around me," he says.
Bartlett now has a part-time job in the Learning Assistance team at St Bede's helping boys who have learning difficulties."
"It is an incredibly humbling feeling being able to help others the way you were once helped."
Bartlett credits much of his academic, social and sporting success to the Cochlear implant he received when he was eight years old.
He is studying for a double degree of law and criminal justice at the University of Canterbury.
Sources