On July 23 our community had the pleasure of hosting the Profession of Arnold Gafero. Arnold had his Novitiate in 1993 here in Dumalag, but in 1999 he decided not to take his final Profession and left the Society of Mary. However, he kept in touch with the Marists and their ministries in the district of the Philippines and on September 12, 2008 he asked the Superior of the District for permission to re-enter the Society. It was decided that he would live two months here with us in the international novitiate for time to reflect on his desire to become a member of the SM once again.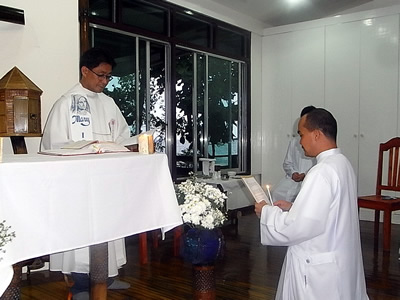 This time was accompanied by some memories of his novitiate at the very same Place in Punta Dumalag, which was the first novitiate to take place here. At the same time Arnold experienced that many things had changed since those times. The community was international now and the house was extended and renovated.
As novices, it was a good experience to have Arnold with us, not only because he is a great cook, but also because he shared with us some experiences from his novitiate. Before his Profession he had a retreat at the Dominican Sister's house of prayer, accompanied by Fr Joe from the formation team. On Thursday, July 23 (Fourviere Day) Arnold re-entered the Society of Mary and made his temporary Profession for one year. For us, it was impressive to be at this special celebration. It gave us encouragement and hope for the continuation of our novitiate in a prayerful and joyful way.
– Thilo Saft
Source: Marist Novitiate