Pope Benedict has 'done a good enough' job, Tim Duckworth told TVNZ's Breakfast programme earlier this morning.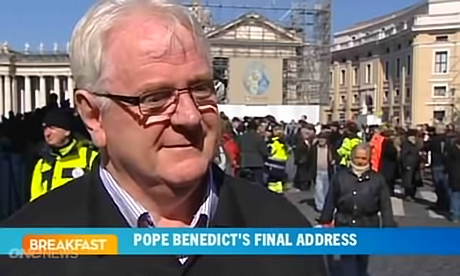 Tim, in Rome working on a Marist committee, told Gath Bray that his parents were also 85 and having to cope with the earthquakes in Christchurch, but they don't have to get up every day and look good in public.
"They deserve a rest, and he deserves a rest too," he said.
Responding to a question about the resignation of Scotland's Cardinal O'Brien, Tim told TVNZ that "none of us is perfect, but that if you stand up in public and say this is what the Church teaches, you need to be reasonably kosher".
"All of us put to scrutiny can find ourselves in difficultly," he said.
"Even the media can find itself under difficulty, as say the BBC has recently, with exactly the same issue. And what did they do? Cover it up".
"It's a natural thing to try and do, but I don't think it works," he said.
Tim said that he thought New Zealanders generally have an affection for Benedict and that he personally liked John XXIII and Paul VI.
Pope's come and go, some are favoured by everyone, some by few, we just live in the hope the next one will be favoured by many, he said.
Read the full report and see the video at CathNews NZ.