The story of "A Certain Way" began at Fourviere in 1816. These were uncertain times for the Marist Project and well before the 1995 publication of the book, "A Certain Way" and still sixteen years later, Craig Larkin's exploration of Marist Spirituality,  remains a very popular resource.
A Certain Way is now available online at: www.acertainway.info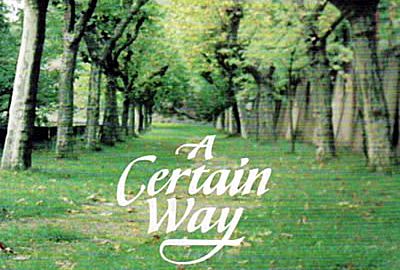 Features of the online version include the ability to:
search the text
print the text
save the text as Instapaper for later reading
print each double page resource as a pdf
print each chapter as a pdf
have the resource electronically translated by Google into Italian, Portugese, German French, Spanish, Japanese, Thai, Dutch, Norwegan and Filipino
in time, create a "linked network" between "A Certain Way" and other Marist resources, such as "www.maristplaces.org" and www.mariststudies.org.
Craig Larkin, the author of "A Certain Way", is enthusiastic about the publication going online. "When I composed "A Certain Way" a few years ago, I had two hopes: first that it would make accessible some of the significant we have on Marist history and spirituality; and second that it would be presented in a reader-friendly way. Since then, a whole different form of readership has evolved through on-line access.
I'm delighted the text is now available on line, and in such a user-friendly form. This could be a great service to many people who want to access the book not only for their own reading but for reproduction in other forms."
Initial feedback has been very positive. Debra Orr, head of school at the Notra Dame Academy in Atlanta, America, describing the initiative as "wonderful" saying that she's "really pleased it's now more readily available" and will certainly publicise it.
We are inviting all Marist websites to make this spiritual resource available to all via a link back to A Certain Way.
Over the years, regularly requests for "A Certain Way" suggests there is a network of interest and taking this network of interest online is something which is currently being explored. Commenting on these possibilities, John Murphy said, "A Certain Way is effectively a book, placed on the Web. As such it will not change. What will vary and give it life are people's reactions to and with it. So in time we hope to "socialise" the experience."
To get the book online, a copy was dismantled, scanned and saved as a PDF document. It was then scanned as text, corrected and placed online. There were a lot of OCR errors, and despite best efforts to correct them, some may remain.
People are invited to submit error reports when they find them.
A Certain Way is a resource about a certain way of living the Gospel as understood by a group of people called Marists. And right up to our own day, followers of the Marist life have given evidence that this Marist way was not just a certain way of living the Gospel, that is, just one way among many; but also a sure way, a sure path that would guarantee genuine holiness to those who followed it.
A Certain Way was submitted to the search engines 23 July, 2010, the anniversary of the signing of pledge in the Chapel of Our Lady of Fourviere.