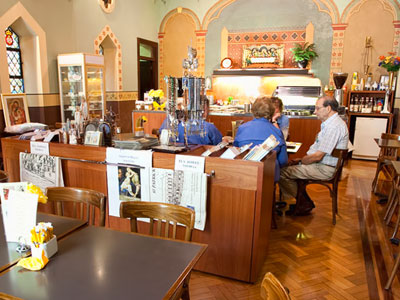 The St Patrick's Courtyard Coffee Shop is a valuable part of the Marist parish ministry at St Patrick's on the Rocks, Sydney.
The St Pat's Coffee Shop provides a peaceful venue bringing people together for friendship and for some it's a place where they can find a listening ear.
The founder of the Coffee Shop, Sr Judith de Montfort SMSM, is still the coordinator of forty-six volunteer workers who work from 10am – 2pm Sunday to Friday. Eighteen of these belonged to the original group of volunteers!
The St Patrick's Courtyard Coffee Shop is housed in the former Sisters of Mercy Chapel. The chapel along with the convent were refurbished in the late 1990's and converted into the coffee shop and presbytery.