Fr John Walls time as chaplain at Marist College, Atlanta is coming to an end, but not before the students 'had their say'.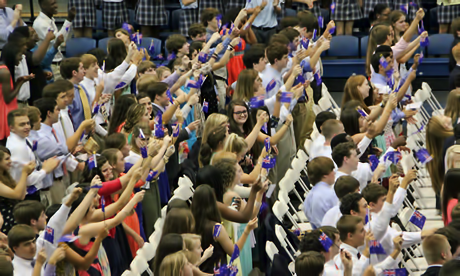 At the award ceremony, Marist College Atlanta Principal, Fr Joel Konzen announced an honorary Graduation Diploma is being awarded to New Zealand Marist, Fr John Walls.
Delighted but somewhat stunned, John writes he came forward to receive his honorary Diploma from two senior students, and as he did all the senior students stood and waved little New Zealand flags.
Asked to "say something" by Fr Konzen, a somewhat stunned John recalls he did but writes, "I have no idea what I said."
Marist College Principal, Fr Joel Konzen said that the senior students had requested the honorary Graduation Diploma be awarded to John for his six-and-a-half years of Campus Ministry and outstanding pastoral ministry and care for the students and staff.
The academic year concluded, Fr Walls leaves shortly as one of nine 'responsible chaperones' to accompany 150 Marist College ninth graders to Six Flags amusement park.
"I missed the trip last year, but this year will enjoy it. One or two new rides and of course, Goliath (YouTube), which I rode seven consecutive times two years ago," writes Fr Walls.
Image: Marist College