School finished at Marist College, Atlanta yesterday with a Christmas Assembly.
Along with the usual formalities of an end of year assembly, the chance for the 50-voice chorale to sing and students dressing in red and green, it was also the opportunity for the school to farewell the Principal, Fr Joel Konzen SM, prior to his departure on sabbatical leave.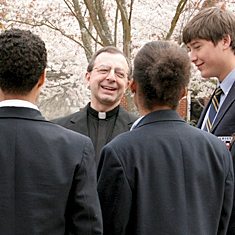 At the end of the Assembly, the senior Student President called Fr Konzen out and presented him with an 'envelope' as a parting gift.
Joel was a bit taken aback but the seniors, having spent six years here really admire him.
Joel has a particular dislike of the phrase 'Not a problem' when someone says thanks. 'You're welcome' is part of the 'how to be a gentleman and lady' etiquette! However when Joel said his final 'thank you' to the Seniors yesterday, on cue they all shouted 'Not a Problem.'
Joel is away for six months but on the seniors request is returning for their graduation at the end of May briefly – one girl said that she had earned the right after six years at Marist to walk across the stage, shake his hand and get her diploma from him and no one else!
The 200 seniors wrote a petition to ask him to return and so he promised them he would.